What Does It Mean to Pray & Fast?
Prayer: During these 24 hours we are asking you to pray intentionally. Together by Faith is our vision to transform the community for Christ. Weekly prayers points will be sent out to focus on for the week. You can find those prayer points in the church lobby, bulletin, Flocknote bulletin or here on our website.
Fasting: We are asking you to give up food for 24 hours. We are suggesting the 24 hours to be from 6 PM- 6 PM the next day. For example, if your day is September 28, you would begin the fast after supper at 6 PM, then continue to fast until 6 PM the next day. Then, you would break it with dinner that night. You may choose a different 24 hours as well.
You should only drink water during this time for a total fast. Other fasts that could be considered: Partial fast; consuming juices, The Daniel fast; consuming only vegetables, Non-Food Fast; finding an item to stay away from. Fasting is an attitude of trust and dependence of God. Jesus said, "When you fast" not if you fast (Luke 4:2). It is giving up something important in obedience to seek God.
Our Church is faithfully committing to these 40 days of prayer and fasting as a way of taking a spiritual step forward as a church. We want you to individually grow in your Christian walk and mission for Christ God in a way you never have before. We want the church to be united in our vision and work for the Lord, Together by Faith.
Click the image below to sign up!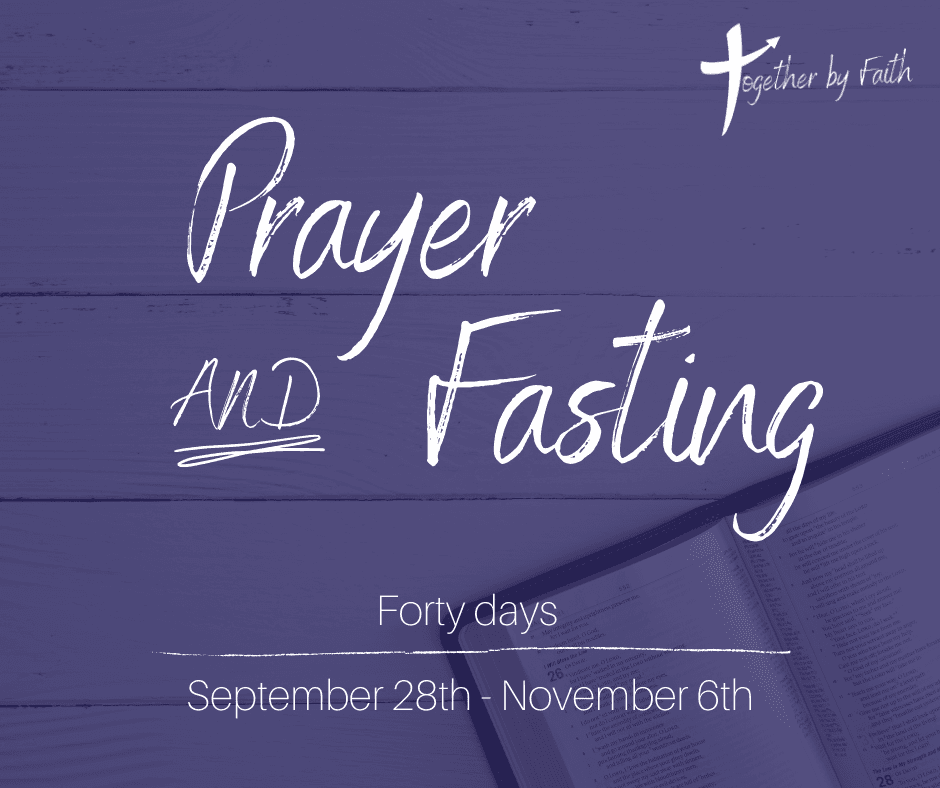 Prayer Points for Week 4:
The building will be what is needed for now & the future, designed by God's hand (Psalms 37:5-6, Psalms 27:4, Proverbs 3:5)
The building will be fully funded by God's provision & our answers to the call (Philippians 4:6, Philippians 4:19, Matthew 21:22, Jeremiah 29:11)
For God's presence to be felt within the church (Acts 2:42- 47, Psalms 16:11, 1 John 3:4, Hebrews 10:24- 25)
Within the building & body of Christ there is a feeling of hope, encouragement, & healing (2 Corinthians 9:8, James 5:14, Psalms 30:2, Matthew 11:8, Jeremiah 30:17)
The mechanics within the building run smoothly from the beginning and last for years to come (Isaiah 24:17, James 1:5)
Prayer Points for Week 3:
Putting aside your own desires for God's desires (Psalms 73:25, James 3:13-16)
Unity & bonding within the fellowship (Psalms 133:1, 1 Peter 3:8, Romas 12:5)
A heart for souls (John 14:6, John 10:10, 2 Peter 3:9)
Humility so you can have unity & appear to those without God (not arrogance) (Ephesians 4:1-6, Philippians 2:34)
That you have a vision with God & the church (Matthew 28:19, Jeremiah 29:11, Ephesians 3:20)
Prayer Points for Week 2:
Maturity in your own spiritual growth through Bible reading and prayer (2 Timothy 2:15)
Unity in your relationships at church (1 Corinthians 1:10, Acts 4:32)
A listening ear to hear God (Proverbs 2:1-5, James 1:22)
Pray for recognition of your spiritual gifts and put them to use in our church (1 Corinthians 12, Romans 12, Ephesians 4)
Prayer Points for Week 1:
God's power to those serving: Pastor, Elders, staff, volunteers, and all team members (Zechariah 4:6)
Our congregation to grow in spiritual maturity (James 4:8)
The missionaries we support (Matthew 21:22)
Current active programs: Kidz Church and Club, life groups, youth groups, meals for seniors (John 15:7)
Safety for people, programs, and the building (1 Corinthians 10:13 & 2 Thessalonians 3:3)