What to Expect
As of July 1st, all persons in Pennsylvania have been ordered to wear masks when in public. Therefore, we are requesting that everyone wear a mask at church each Sunday until this order ends.
In accordance with the order, Section 3: A. i. Individuals who cannot wear a mask due to a medical condition, including those with respiratory issues that impede breathing, mental health condition, or disability and children under two, would all be exceptions to the face covering requirement.
And as stated in B., individuals are not required to show documentation that an exception applies.
When asked about enforcement this is what was said:
"We are relying on the good sense and cooperative spirit of Pennsylvanians to follow the Sec. of Health's mask-wearing requirement order, and at this time law enforcement will not be charged with enforcing this latest order with citations for noncompliance," the Health Department spokesperson, Nate Wardle, wrote in an email to PennLive.
Considering the above statement, our Safety & Security Team will not be enforcing the order. In summary we will be having our Sunday service together at 8:45 AM as planned.
We will not be asking anyone why they are or are not wearing a mask. We will not be stopping anyone from entering the building Sunday if they do not have a mask on. We do ask that you use our hand sanitizer before entering the building and that is a must for all. If you are asked to submit to a temperature check we encourage you to do so.
Things to Note
We will still have the one service at 8:45 AM.
We will have a hand sanitizing station when you enter the church.
Bulletins and notes will be available to you if you would like to take one.
Kidz church is going to be held as normal. The children will check in when they arrive and go immediately downstairs. They will be asked to wash their hands when they enter into the Kidz space downstairs. You may keep your children upstairs as well if that makes you more comfortable.
The hospitality counter will be available for self serve coffee and treats.
We will have all of our chairs set in place in the sanctuary. You may space yourself out however you feel comfortable. The tables and couches available in the lobby are for those who want to distance themselves from the main group.
Please be aware that some people will not like a handshake or a hug so be respectful of their space.
We will not be passing an offering plate. There will be offering boxes available on the back walls so that you can give "contact free".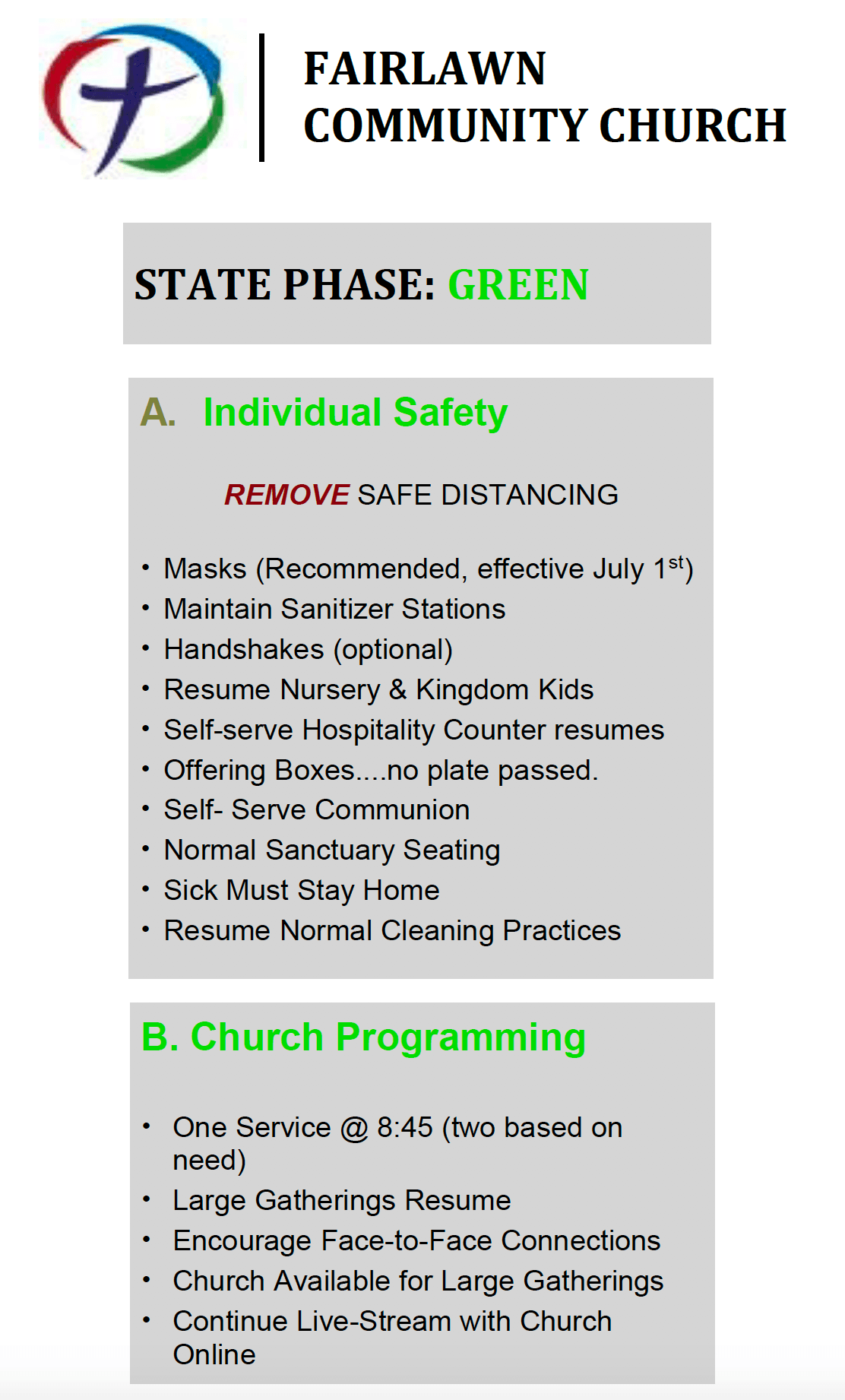 Online Services
If you are not yet ready to return to in-person services, no problem! We will continue live-streaming services via Online Church.
Information for the sermons, notes, kid activities, etc, will be shared via Flocknote before the livestream services. Please sign up to get the weekly bulletin by texting "fcc" to 84576 or sign up online.
For more updates and to receive the message notes for each Sunday, be sure to sign up for our church communication tool, Flocknote!
If you missed the last week's message, be sure to check it out on our sermon page!