Transforming Our Community for Christ
Latest Updates
A Letter from Pastor Steve:
Dear Fairlawn Family,
It's hard to believe that 3 years ago we started our journey. It began with a young boy, Johnathan Phillips, handing me a one dollar bill at the end of a Sunday message and saying, "Here's my dollar to help build our building!"
The following year we began our "Forward in Faith" campaign. Since then, I've often been moved to tears of joy and thankfulness as I've seen your commitment and faithfulness, even in the midst of a pandemic and shutdown! I have never seen such an amazing outpouring of love and creative generosity! In 2 years, together we have given over $700,000. We developed and settled on our building vision, and although we have spent funds to get us where we are, our current fund balance is around $575,000. The building pad is 90% complete, we will soon complete the site prep work, we have received 3 estimates on the building, and we anticipate going out for formal bids this winter. By God's grace we hope to start construction in the spring. That is why I invite you to participate with me and your Elders in an exciting prayer journey campaign called "Together by Faith"...because together, by faith, we can complete what we have started and grow as disciples of Jesus and His church family. Together, we can finish and build the Fairlawn Community Center!
Why am I so excited about this campaign? Because it's all about prayer and listening to what God says. In one of our recent sermons we talked about getting the mind of Christ, or thinking like Jesus thinks, and then doing what He says. That's the goal of this campaign...for each of us to participate in a 40 day prayer journey, listen to God about our financial part in this Community Center, and then to make our commitments to this goal over the next three years.
I'm excited about making my commitment through prayer and listening to Jesus with you. When we do this together, we can declare our love for Jesus and support His mission to reach the lost in our community. Join me!!!
Our campaign launches September 27th. The next day we begin with 40 days of prayer and fasting to prepare our hearts and minds to receive God's word to us. If you're already giving, don't be surprised if the Lord prompts you to revise and even increase your commitment! Your church leaders will make their faith promises in early November (because leaders set the example). On November 15th we'll give out the faith promise cards and then we'll celebrate and give thanks on the 22nd during a special Celebration Day Service followed by a Celebration Thanksgiving Dinner. Fairlawn family, let's grow and do this TOGETHER BY FAITH!
For Jesus and FCC,
Pastor Steve
Have more questions? Look at our FAQs to learn more.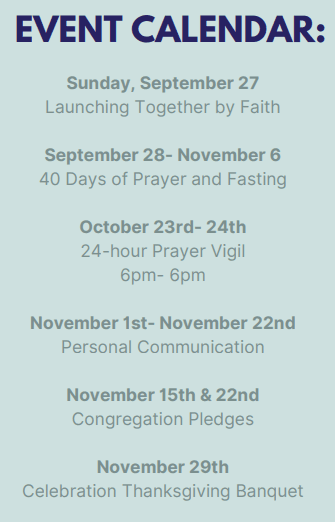 Leadership Team