Our Mission
Connecting kids and families to Jesus and the church
Serving God as we learn how to serve others
Encouraging kids to grow in their faith and apply the Bible to their lives
We have many opportunities to connect kids to Jesus!
All of our adult teachers and helpers in each kidz ministry program have had child abuse and criminal record background checks and are involved in training throughout the year.
KIDZ CHURCH
Kidz Church is a church service especially for kids (ages 2 years through 6th grade) that takes place during the adult service times at 8:45 AM & 10:30 AM. We have a time of worship/singing together, then split up into classes based on age.
Nursery is available for children from birth through 2 years. We have a video and audio feed in the nursery so the service can be viewed.
KIDZ CLUB
Kidz Club is an upbeat children's program for ages 3 years through 6th grade. This program runs Wednesday night (September - March) from 6:00 - 7:45 PM. We have a fun filled night of music, games, Bible time, contests, theme nights, crafts and more.
We have top notch security. Children are checked in and not released without a proper check out pass. All of our adult teachers and helpers have clearances, and we hold trainings throughout the year.
Also available Wednesday nights, before Clubs at 5:30 PM, is a free dinner for everyone - both kids and their families.
KIDZ CAMP
Camp is an amazing time full of fun and friends and a focus on God and how much He loves your child. We offer camps annually in the summer, for different ages groups and interests. See below for when our next camps are planned and registrations open.
Explorer Kidz Camp (Jun 20-22)
Camp is three days full of fun and friends and a focus on God and how much He loves your child, and the amazing world He created! We'll be exploring and learning about pond life in Pennsylvania!
Camp activities will include, large group Bible Time, Crafts, Games, Singing, Small Group Discussion Time, Water Activities and much more!!
PLEASE NOTE: This camp is for children who are 3 years old through finished 2nd Grade!
Sleepover: Mini Camp (Jul 19-20)
Camp will be 23 hours of fun that will include water fun, blanket fort building, making smores, crazy games, Bible Time and connecting with friends!
Camp will begin at 1pm and pick up will be at noon the following day. Camp will include supper on the 19th, breakfast on the 20th and lots of snacks in between! Campers should bring a sleeping bag/blankets, pillow, pajamas, change of clothes, bathing suit/water clothes and a towel.
PLEASE NOTE: This camp is for students who have finished 2nd grade through 6th grade.
Kingdom Kidz Archery
The visions for Kingdom Kidz Archery is to see transformation take place in the lives of kids by presenting Jesus and by using the life skills of archery to make God the center of their lives.
Matthew 6:33 - Seek ye first the kingdom of God.
Kingdom Kidz Soccer
The vision for Kingdom Kidz Soccer is to see transformation take place in the lives of kids by presenting Jesus and by using soccer as a way to instill character traits, heart attitudes, and soccer skills that will honor and glorify God.
Psalm 96:12 - Let the fields be jubilant, and everything in them.
KIDZ CHECK IN & OUT PROCEDURES
Before Service: You can check-in your child at the Kidz Check-In Counter located in the lobby. You and your child will be given matching tags that are exclusive to your family and your visit. Your child will need to wear the name tag portion while you hold on to the matching tag. Your child will also receive a wrist band, indicating they have been checked in.
After Service: After the service is complete, you will return to your child's room and show your tag in order for your child to be released back to you.
During Service: In the event that we need to contact you during the service, the Kidz Ministry director or Security Personnel will call you.
---
MEET THE STAFF
Jody Hickok
STUDENT & FAMILY MINISTRY DIRECTOR
Jody is the Director of Student & Family Ministry at Fairlawn, having been involved in children's ministries since 1994. It is her desire to see children come to know God and grow in their love for Him and relationships with Him. She and her husband, Bret, have 2 children, Kaleb and Jenna. Her favorite hobbies are photography, playing the piano and reading.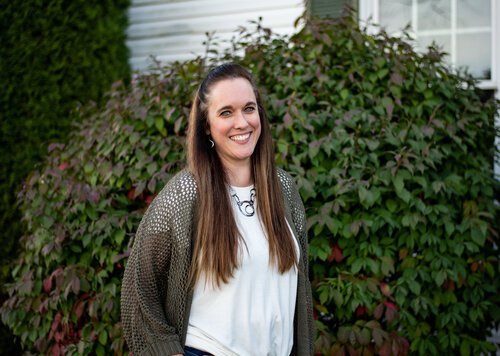 Jen Hoffman
CHILDREN'S OUTREACH COORDINATOR
Jen has been teaching children all about Jesus's love for them since 2006 and is passionate about reaching children for Christ. She has been married to her husband, Doug, since 2007, and they have 3 children: Alex, Bella and Addy. Jen loves coaching her daughter's soccer team, taking day trips with her family and a good cup of creamer with a little bit of coffee.